My kids planned a little getaway from the big city, to help me get over my jet lag (there's a 10 hour time difference between Turkey and my home in Seattle.) Most people in Istanbul don't own cars, so we did as what Turkish families do and hired a car service to take us to Sapanca (pronounced Suh-pawn-cha), about a 2 hour drive from Istanbul. A lake region which isn't well-known to non-Turkish tourists, it was a perfect place for a little R&R.
While there we went to a Circassian breakfast which was served in an outdoor garden with a bubbling well. A Turkish breakfast is known for setting out lots and lots of little dishes, usually with a cheese platter, tomatoes, cucumbers, hot dishes, cold cuts and more. The Circassians are an ethnic group who were mostly exiled to Turkey and the Middle East in the aftermath of the Russian-Circassian war, which ran for 101 years from 1763-1864. As I read about the Circassian people, I was frankly horrified at my ignorance. But, that's not really a topic for me to go into here… the breakfast spread was different and delicious, as you can see:
The Nazar is the blue circular or teardrop design with a blue glass field with concentric circles including a blue or black dot superimposed on a white or yellow center. It is used in Turkish culture to ward away the "evil eye".
At times, you come across a "nazar tree" such as this one in the Circassian restaurant's garden: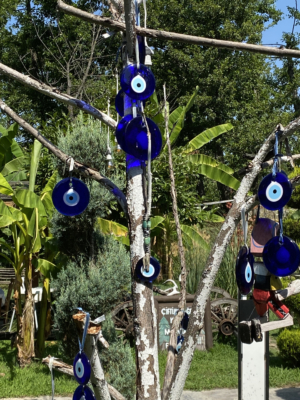 On the final day of our Sapanca stay, we went to the lake for a paddle boat ride.  They had all sorts of shops on the shoreline, including one that had sets of embroidered household sets, like table runners and doilies.  These are commonly used in Turkish households, under coffee and tea service, etc.  I picked out one set with silver metalwork.
I also picked up this small carpet, machine made, but I enjoyed the color and design: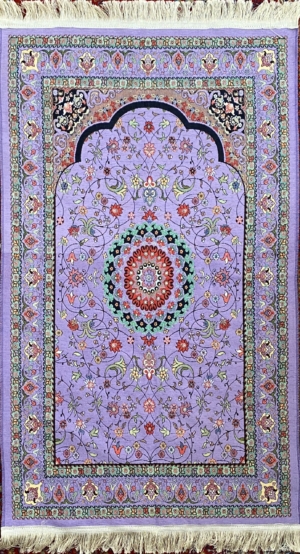 Next up: Back to Istanbul!
https://fiberartistjourney.com/wp-content/uploads/2017/12/Christina-Fairley-Erickson-575x156-300x81.png
0
0
Christina Fairley Erickson
https://fiberartistjourney.com/wp-content/uploads/2017/12/Christina-Fairley-Erickson-575x156-300x81.png
Christina Fairley Erickson
2021-08-11 15:54:06
2021-08-11 15:54:06
Short Break to Sapanca