Join Christina on the Holland America Vista Class ship, the Eurodam September 23-30, 2023 along with other quilters and fiber artists for a "Quilt Seminar at Sea" Alaskan Explorer cruise.
For the complete itinerary and information, go to QuiltCruises.com
Experience Alaska!
With so much bountiful wildlife and breathtaking scenery, no wonder "The Last Frontier" is the first choice on most cruise lover's wish lists. There's something wonderful awaiting you in every port of call:
Juneau – In Alaska's capital, taste salmon baked over an alderwood fire, pan for gold, flight-see the Juneau Ice Field, and visit the Mendenhall glacier.
Sitka – Step back to the days of Russian Alaska as you watch lively performances of the New Archangel Dancers and view holy paintings of the Czarists' days. Plenty of wildlife adventures await!
Icy Strait Point – See the beautifully restored cannery building, museum and cannery demonstration set amid the breathtaking backdrop of the Tongass.
Ketchikan – Immerse yourself in Tlingit Indian culture as you view the world's largest collection of totem poles or kayak the colorful waterfront. Visit Creek Street and see Alaska as the early pioneers did.
Victoria, B.C. – Stroll through the charming downtown of this very British city. Or, just outside the city, visit the lush flora and fauna of Butchart Gardens.
You can play tourist, choosing your pleasure, whether it be walking, touring, flight-seeing or shopping. All the ports we visit are directly in town, and there is a lot to see within walking distance, including quilt shops in every port.
Consider bringing a friend, your spouse or your family – non-quilters are always welcome to join us and will have many activities to pursue while you are in class. We hope you can join us!
Sincerely,
Christina Fairley Erickson, Chardel Blaine, Scott Walton, and Jeanette Walton, instructors
Amy Ross, Group Coordinator – Quilt Seminars at Sea
Here are the classes Christina is teaching:
Alaska Wildlife Portrait: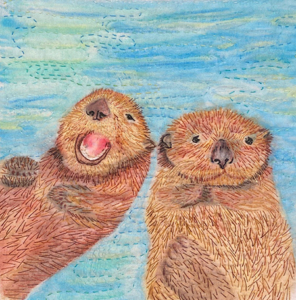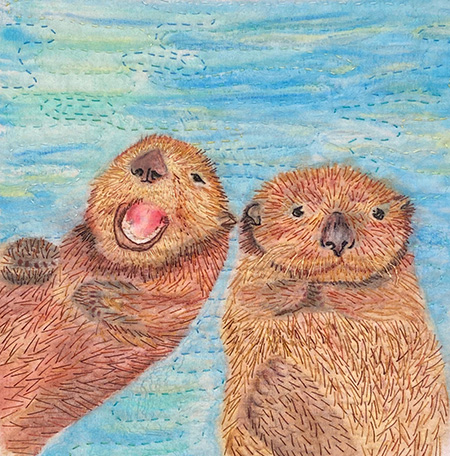 Choose one of your favorite Alaska animals or birds (otters, moose, wolf, grizzly bear, eagle, or auklet) to transfer to fabric and then color in yourself using Gelatos (fabric pastels) and InkTense pencils. After lunch we'll add hand-stitching to enhance the animal and bring it to life! You do not need to know how to draw to be successful in this class – you'll learn a simple technique to get a fabulous result that you can use in your quilting in the future.
Mendenhall Glacier in Impressionistic Textile Collage: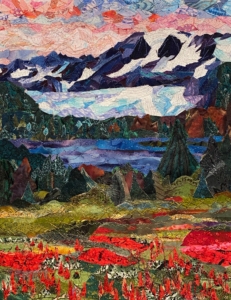 Using an impressionistic technique of pointillism, you'll choose from 12 different color schemes and collage fabric pieces to create a landscape view of Mendenhall Glacier. After your collage is complete, you can add stitching to embellish, giving your piece dimensionality and texture.
Mendenhall Glacier by Christina Fairley Erickson
---