I've been so busy actually making my art, I haven't had time to write about the most recent exhibitions I had the honor of being included in, both at the Pacific Northwest Quilt and Fiber Art Museum in La Conner.
"Photographs and Memories Invitational Exhibition" started in early January this year, and ran through the end of March.  With an incredible diversity of art and some amazing artists, this exhibit for the large part was pictorial.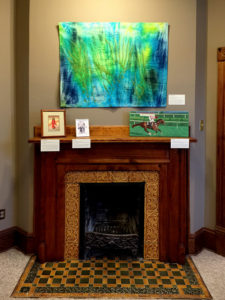 All 7 of my pieces were grouped together in one room.  Over the fireplace you'll see 4 pieces with "Seeking Sunlight" up top (based on my memories of scuba diving in forests of bull kelp).  On the fireplace mantel from left to right is "Little Lambs" is based on a photo taken by our son, David Erickson, on a trip we took together to Peru.  I printed the photo "Havana, 1938" on photo paper and then hand stitched on it- from a cruise my mother went on when she was 3 years old through the Panama Canal.  "In Flight" captures the moment of suspension in the air of a thundering racehorse.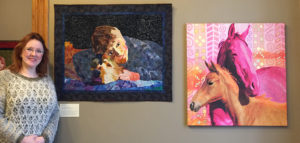 Here I am at the opening by two more of my pieces. "Best Friends" is an early art quilt I made of my son Coleman Holdridge (about age 10) and our Golden Retriever, Blaster.  Then for a more surrealistic photo interpretation, I have "In Klimt's Corral".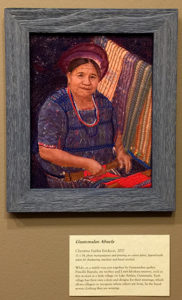 My final piece is from a textile tour of Guatemala which I took with my mother.  I call her "Guatemalan Abuela" (grandmother), one of the lovely weavers we met on Lake Atitlan.  Made from my photo, she is heavily machine stitched.
I'll try to add both "Havana, 1938" and "Guatemalan Abuela" to my gallery soon, so high quality images can be viewed.  Next: the Birds of a Fiber exhibit!