I've been incredible busy getting ready for the Salsa! show this week.  First we had our CQA (Contemporary QuiltArt Association) jury meet at my house on Sunday.  Jurying a show is a fascinating process.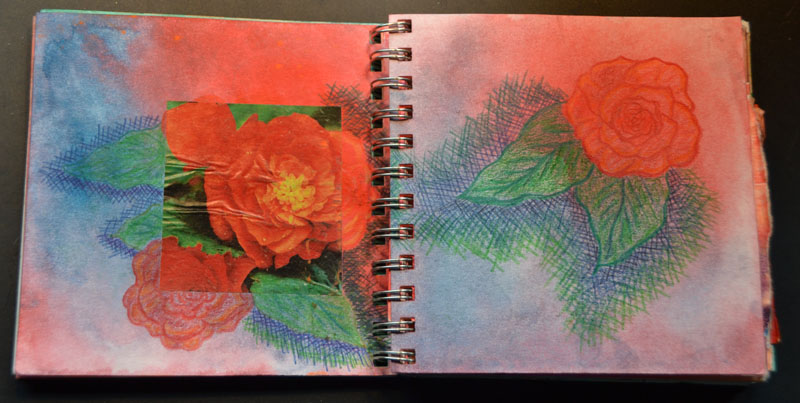 From my art journal  – Page painted with acrylics, Magazine photo, drawing with colored pencil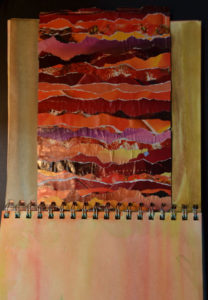 Torn paper collage
We have a PowerPoint slide show of all the full and detailed views of the entries, which we project onto a screen.  The first run-through is quick, just for the three jurors to get an idea of all the entries and the overall scope of the show.  Next, we go more slowly, allowing the jurors to choose whether their initial impression is to YES (have the piece in the show), NO (don't have it in), or MAYBE.  During this second run through, there is no discussion.  We then tally each of the jurors Y-N-M votes and any piece with 3 Yes' is automatically juried in.  Likewise, 3 No's excludes it from the show.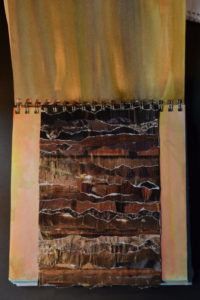 Torn paper collage
After that, the jurors go through and make decisions about each of the pieces with has anything other than a unanimous decision.  We also have jury helpers to handle other jobs during the process… secretary to take notes on the juror's comments to share with the artists; assistant to navigate through the slides; and a person who tallies the linear inches of width of each accepted piece to ensure that we don't exceed what the gallery can hold.
So, after getting the show decided upon (and my Salsa quilt was accepted!), I've had lots of work to prepare for the show.  I had to get notifications of acceptance and of regret out to each of the artists.  I had to get photos to the venue for printing in a catalog.  I had to get new photos from a few of the artists when I found they hadn't sent high resolution photos.  I had to get things sent out to our publicity chairperson. Etcetera, etcetera, etcetera.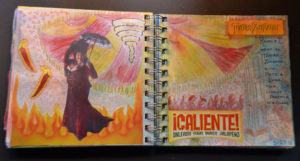 Watercolor pencil and collage from a theater show "Teatro ZinZanni"
So, I haven't had time with my sewing machine all week, and I'm feeling a bit guilty.  I am working on preparing my freemotion quilting sampler quilt that I'm doing in conjunction with Leah Day's Craftsy course, "FreeMotion Fillers Volume 1."  Now that I have it all pieced together, I need to layer it with the backing and batting and then baste it.  I don't know that I'll be getting it finished this weekend, however, as I have a Contemporary QuiltArt Association Board retreat, as well as I'm hosting a Surface Design Association group where we'll be hearing about and trying out Golden Acrylic products with Barbara De Pirro.  I have, however, spent more time on my hand stitch and am working on a new little stitch book.  I've also been working in my art journals and thought I'd share a few photos from them today, before going into Design Wall Weekend.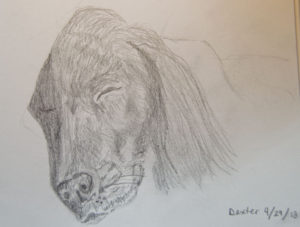 Pencil drawing of my dog, Dexter from this week
Now on to some fun with Design Wall Weekend!
You Might Also Be Interested In: