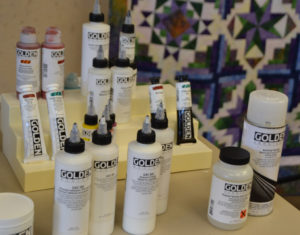 On Sunday, our local area Surface Design Association small group had a wonderful speaker/presentation by Barbara De Pirro on uses of Golden Acrylic products.  Barbara is a fantastic mixed media artist and gives different classes on using acrylics of all sorts.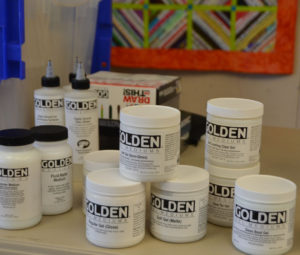 If you're not familiar with acrylic products, there is a whole range of supplies that are great for working with on fiber and mixed media. Acrylic paints can be used on fabric, although it works best if combined with a fabric medium, helping to extend the paint and maintain the hand of the fabric (the way the fabric naturally feels. Acrylic paint is water soluble and dries quickly (it is water resistant when dry.) You can also modify it with acrylic gels, mediums or pastes.
One of the things I'd never seen before was a digital "ground" that you can mix with all sorts of products, including glass bead gel, acrylic ground, fiber paste, mica flakes and more. This specially formulated acrylic allows you to make almost any reasonably flat surface into something that can be printed in your ink-jet printer. For instance you can get a crisp clean image on a metal foil, on specialty papers, and even on acrylic "skins" which you create by painting on a layer one of the products and letting it dry.
Fine pumice gel with Digital ground




has been run through the ink jet




printer to add this image

The sheet or "skin" easily peels up and is




translucent.  It can be added into




artwork, even stitched on.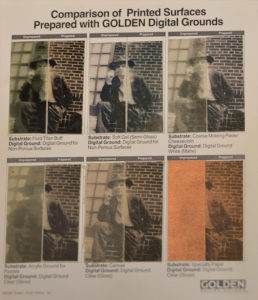 Examples of using Digital Ground with different substrates and then putting through
the ink-jet printer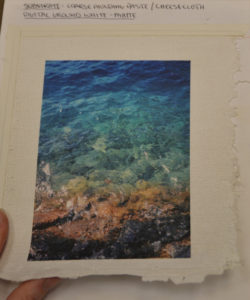 Starting with cheesecloth, covering with coarse
molding paste with digital ground, then
printing an ink jet image on it
You Might Also Be Interested in: