I love looking at different fiber artist's work.  Even when it's very different from my personal style or taste, I generally find things I like about most pieces.  The couple I want to share with you tonight are also from the Whidbey Island Surface Design Association's recent exhibit up at the Schack Art Center in Everett, WA.
First, Janet Steadman displayed a stimulating series with bright stripes of color, even sweeps of quilting stitches, and a simplicity that made it all come together.  The series displayed together really works well… it makes me think of a library filled with books stacked to the ceiling. (I am a daughter of a librarian, so my house can look like this too!)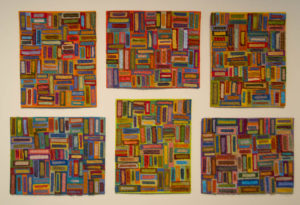 Janet Steadman's series "Keepers"
Fiber $375 each (set of six $2100)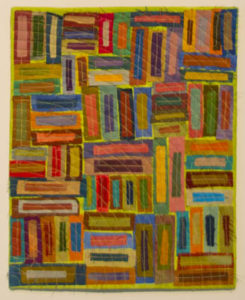 Close-up of one of Janet Steadman's
"Keepers"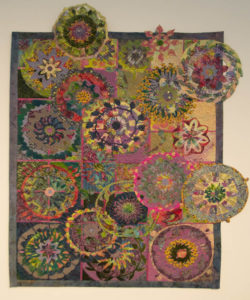 "Exuberance" by Fine Gelfand
Cotton & syntetic fabrics, fused & machine stitched $650
In contrast to Janet's style, Fine Gelfand's piece is a study in busy-ness.  The patterns and textures feel as though they are moving- spinning right off the piece.  Again, the colors are quite vivid and there is a sense of being somewhat like a traditional quilt, but you get a much different feel from this piece.    The name of this piece, "Exuberance" really says it all.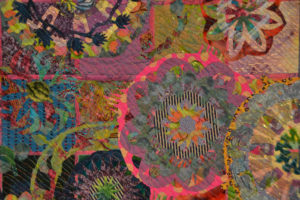 Detail of "Exuberance" by Fine Gelfand
Hope to have you join me for "Design Wall Weekend" blog linking party Friday-Sunday!
You Might Also Be Interested In: