I've been a bit over my head in preparing for the Salsa Exhibition that's coming up next month.  I'll be hosting the Contemporary QuiltArt Association jury at my house this coming weekend, to go through all the slides of entries and make decisions about the show.  Furthermore, I've been contacted by three other venues (two which I'd sent information to and one that was unsolicited) about potential shows for our group in the future.  More on these when I get them scheduled!
For those of you interested in showing, I have a bunch of management tools I've made to help me.  You might want to think about how you can incorporate similar tools to help yourself organize for exhibitions.
I have a spreadsheet of all my quilts/art with their sizes, descriptions, the materials and techniques used on each, completion date, any awards or prizes it has won, the price, and whether there are dates that it is committed to be at an exhibition.

I have a page of links to all the places I go to find potential exhibitions

I have templates for the labels that I make for my quilts (which I print on fabric) so they have a consistent look.

I have a list of the shows I am interested in showing at, have sent submissions to, and where I have work currently showing.  This includes links to the call to artists, the contact person and address, entry dates, when the quilt is due, the show run dates, and when the quilt is expected to be returned by.

I even have a database of my library of fiber and art books (OK, this may be overboard, but I was raised by a librarian!)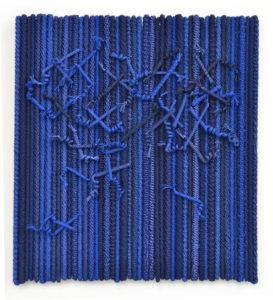 "Rhapsody in Blue" by Ilene Rae Sorenson
Hard Core Kumihimo braiding, satin cord, mixed
yarns, wooden dowels, wire, wood frame $2400.
I think you probably get the drift.  I guess one of the challenges for me is to not get so caught up in making systems that I don't actually spend my time in the studio.  But, you can see that if you have multiple pieces going to various shows, making sure to track all this information can be critical.

Here's another wonderful piece from the Whidbey Island Surface Design Association's show.  This striking piece by Ilene Rae Sorenson is using a traditional Japanese braiding technique.  She collaborated with a local woodworker to design and build a specialized table for the braiding process.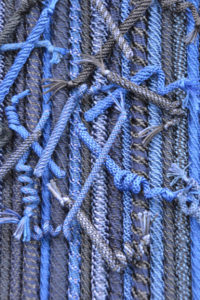 "Rhapsody in Blue" detail



I'm always thrilled to see a different type of fiber art… particularly those which mix the traditional with contemporary.  Although the monochromatic color scheme has very little light colors, there is enough differences in value and particularly texture to give a great deal of contrast, creating interest.  The long vertical cords create repetition and the curly ends crossing the columns breaks it up, creating movement.  I think this piece is very successful and beautiful.

I'm getting back to my 5 x 7 challenge this week… I'll have something to share soon.



You Might Also Be Interested In: