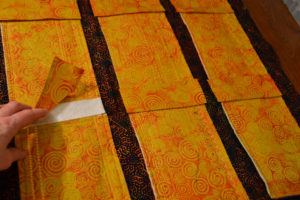 Adding backing strips with edges ironed under over batting, which
has been whip stitched to block seam allowances
I've never made a "quilt-as-you-go" quilt before. This piece, however, was my attempt to both satisfy my personal challenge to complete a 5 x 7 art piece each week along with preparing a piece to enter in the Contemporary QuiltArt Association's upcoming "Salsa!" Show.
I have to admit I'm a bit behind on my weekly 5×7's, but putting together the Salsa quilt, as well as some other projects, have taken priority for me right now.  I'll be getting back to my    5 x 7's soon enough.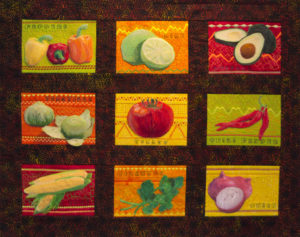 Front side of my Salsa quilt with sashing
So, now that I have all my blocks done, how do I put it all together without having a problem of differing amounts of layers in the sashing versus the blocks?  The way I solved this puzzle is to start with making the sashing and puting the front side all together.
Then, I turned it over and carefully cut pieces of batting to fit right between the blocks seam allowances, so that the batting would be consistently uniform across the quilt.  I chose to do the vertical pieces between the blocks, then the long horizontal strips, and afterwards the vertical borders.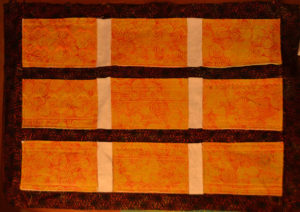 Batting cut and added between blocks vertically
After cutting all the batting to size, I did a long whip-stitch to hold the batting in place while I will be freemotion quilting the sashing.  I then cut pieces of the backing fabric about 3/4″ wider than the finished width of the sashing and pressed under the edges of these strips with my steam iron.
Batting Whip-stitched to seam allowance of blocks
Next, I carefully hand-stitched down the strips over the batting and seam allowances of the blocks.
While this might not be the most expedient (or fast) method, I think the outcome will be quite nice.  Next step is going to be freemotion quilting the sashing/borders!
Batting added other than vertical border; backing
strips added to vertical centers
Backing strips all added and ready to hand-stitch
You Might Also Be Interested in: