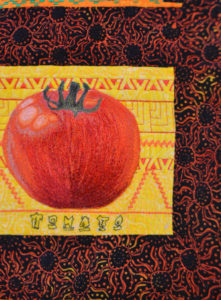 Salsa quilt with "Here Comes the Sun"
freemotion quilting design
My Salsa quilt is almost finished… I only have 3 sides of the sashing/border to quilt and the binding to go… good thing since the show deadline is tomorrow!  After trying several different styles of freemotion quilting for the sashing (as well as thread color), I decided to let the fabric be my guide and created what I'm calling the "Here Comes the Sun" freemotion quilting design.  I'll work on getting a tutorial out on this design later this week.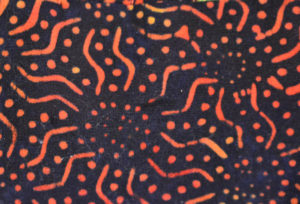 Closeup of the sashing fabric
which inspired the design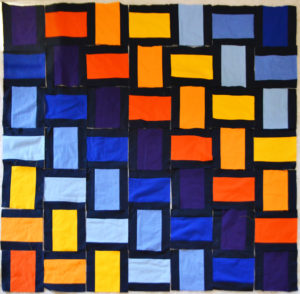 Layout of my quilt-top for a free-motion quilting sampler
that I currently have on my design wall
I've also finally got started on piecing my quilt top together that I'll be using for a freemotion quilting sampler.  I'm enrolled in Leah Day's Craftsy class "Freemotion Fillers Volume 1" which teaches 50 different freemotion quilting designs (49 blocks each with their own design and 1 design throughout the sashing and border.)  I'm thinking, however, of substituting some of the designs that Leah teaches in the class with some of my own, such as my True Triangles design.  Make sure to check out the True Triangles Video Tutorial here!
So, what do you have on your design wall?   By the way, if you don't yet have your own design wall, click here for a great tutorial on how to make one for yourself from Quilts by Jen.