Moulin Rouge dans la Nuit
Scroll to bottom and click on thumbnails below to view full-size detail images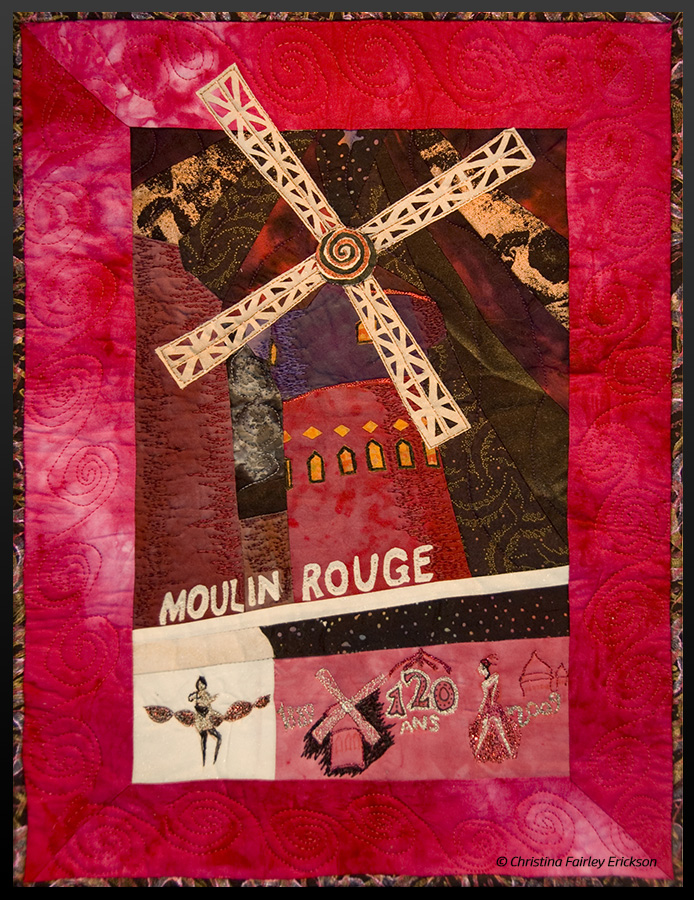 Original Design Hand-dyed Art Quilt
©2017 Christina Fairley Erickson
Since the late 19th century, the Moulin Rouge has been an inspiration for artists.  It has symbolized the bohemian lifestyle and served as a gateway to Montmartre, the neighborhood in Paris where writers, artists, and philosophers congregated.  Most notably, Henri Toulouse-Lautrec captured many scenes of the Moulin Rouge in the 1890's, helping to assure its fame through his lithographic posters.   Most people are familiar with the Can-Can, a dance popularized at the Moulin Rouge.
With quilting being such a traditional woman's art, some feel it's taboo or at a minimum quite a dichotomy to explore the risqué.  This image is of the exterior of the famous windmill at night, from a photo I took in 2009 (yes, I went inside too!).  The reader board image of "120 ans" is celebrating the 120th anniversary of continuous operation of the infamous nightclub.
Materials and Techniques: Hand-dyed and commercial 100% cotton fabrics, freehand machine embroidery and quilting.  Original design from photos by artist.
Size:  13″w x 18″ h
$395.