Graphene – The Miracle Material
Scroll to bottom and click on thumbnails below to view full-size detail images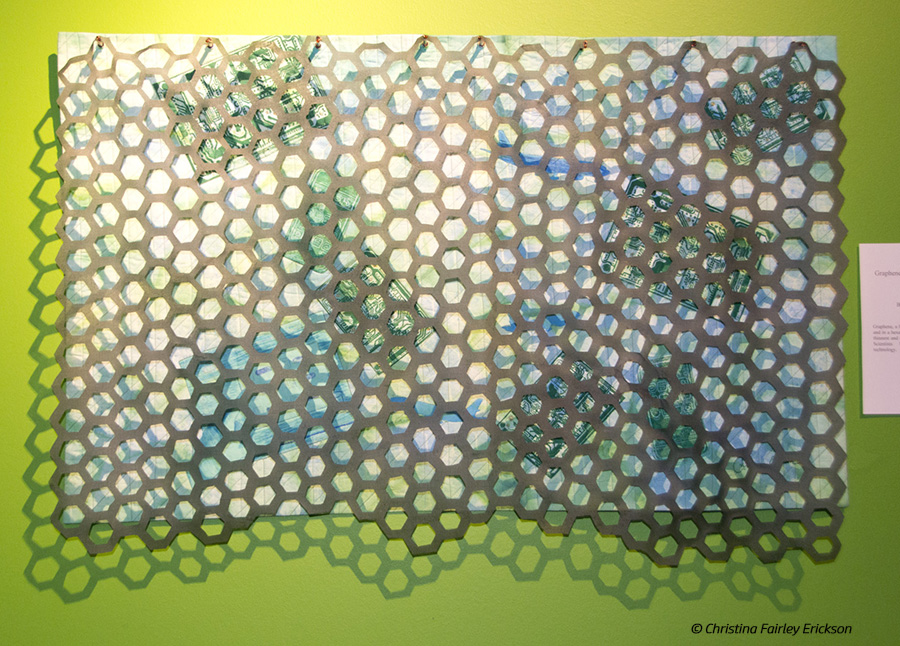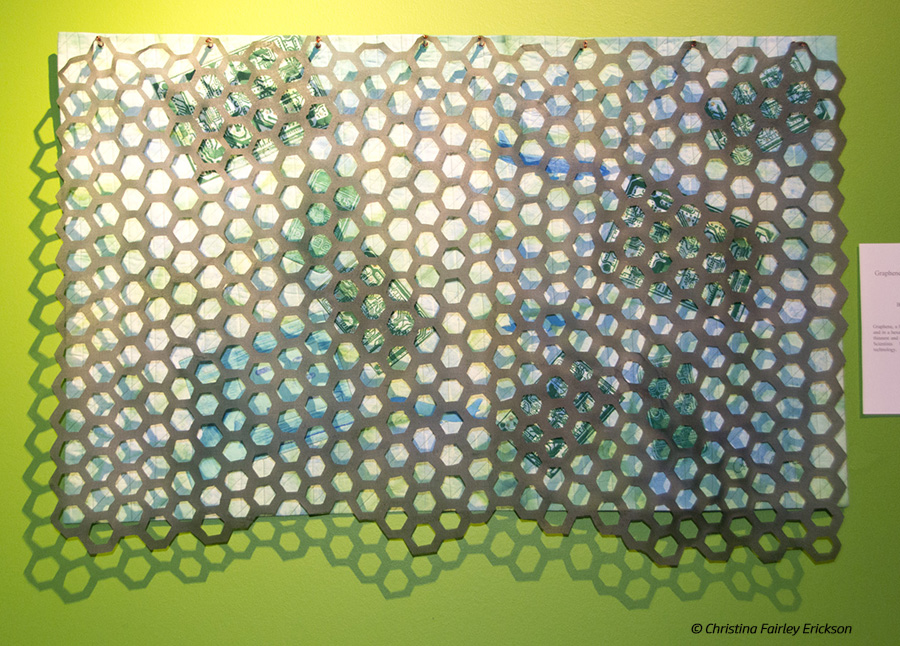 Original Design Multi-Media Art Quilt
©2012 Christina Fairley Erickson
"Graphene: The Miracle Material" was made for an exhibition at the Seattle Center's 50th Anniversary entitled "The Next 50 Years- Fiber Artists Look at Innovation and Civic Action."
Graphene, a form of carbon only one atom thick and in a hexagonal cellular structure, is both the thinnest and strongest substance known to man. Scientists believe it will revolutionize technology from computer and mobile displays, medical devices, aerospace, desalination plants, electronics and countless ways which we cannot yet predict.  I wanted to represent both the uniqueness of the material (thin, lightweight, hexagonal cellular structure) as well as some of the possible applications of the technology.
The under layer has images of different types of applications which will use Graphene.  To represent the one-atom thick sheets of this hexagonal carbon molecule, I treated a thin sheer black nylon organza fabric and hand cut  it into the hexagonal grid structure to represent the Graphene.  I designed the hanging grid to create  interesting shadows in gallery lighting.
Materials and Techniques:  Hand-dyed, hand-painted and custom screen-printed whole-cloth cotton background quilt – machine quilted backing.  Graphene layer treated black nylon organza hand cut with razor knife in hexagonal pattern and hung with copperpipe, copper wire, metal fittings and beads.
Size:  36″w x 23″ h
$1245