UK Tour Day 1- Royal School of Needlework Curator's Tour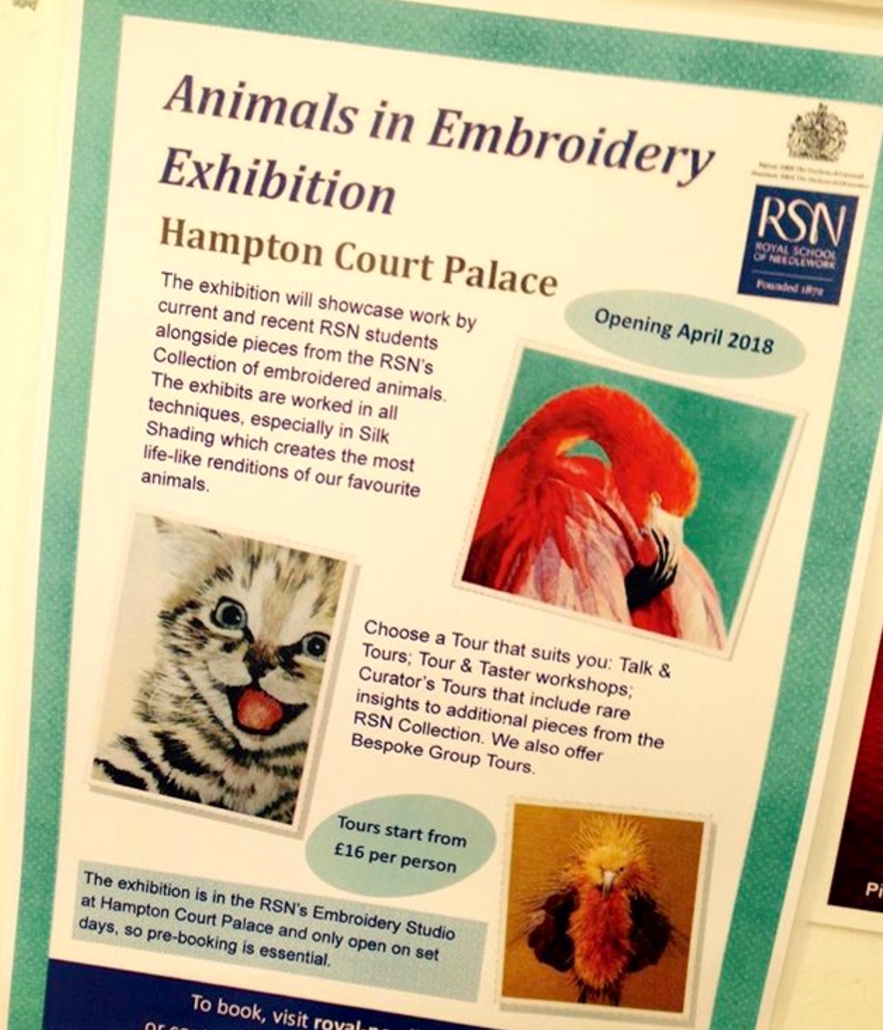 I'm a great admirer of England's RSN and the incredible embroidery pieces produced by their students and tutors.  I've had the great fortune to visit them twice in the past, most recently in 2016 for theor Stumpwork and Raised Work exhibit.  So when planning my current tour, I looked up what is available and found their current exhibit is "Animals in Embroidery"- one of my favorite things to create!  Only problem was that the curator's tour this month occured only at 11 am on the day I arrive from Seattle at 7 am!  I thought about it for several weeks and then decided I'd take the risk and sign up, even if timing was tight and I might miss it.  Luckily the stars must have been aligned because our flight arrived on time, we were successful with our train connections, and we met the RSN volunteers at the front 'moat' gate of Hampton Court Palace at 10:45 am.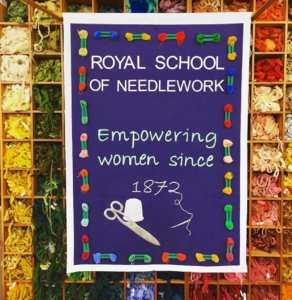 The Royal School of Needlework (RSN) started in the late 1800's with Queen Victoria as their first patron.  Their mission has been to keep the art and techniques of hand embroidery alive and thriving, as well as helping train women (now men too) for employment so they can support themselves and not become destitute  They have classes at Hampton Court Palace and other International locations lasting from 1 day to several year programs.  They also have rotating exhibitions at their on site location, which can be viewed with a curator's tour.  Book a tour at the Royal School of Needlework here!
According to our presenter who is inher second year of the RSN teacher certification program, animals  (including birds) are the second most common subject for embroidery (flowers are the most popular.) The display of both student and tutor work includes all sorts of techniques, tied together by the common theme of animals.  The techniques include blackwork, needlelace, goldwork, canvas, Jacobean crewel embroidery, whitework, applique, and silk shading.
One piece that caught my eye was a blackwork race horse and rider.  The stitches were so tiny- about 3 mm at the longest.  To create the shading/shadows, the density of stitch is increased, often by increasing the thread weight.  The jockey was done in blackwork techniques, but using colored threads to create contrast.  This exquisite piece was given to Her Majesty Queen Elizabeth II, on the occasion of her Diamond Jubilee in 2012.
Silk-shading works beautifully as a technique for animals and birds, as you can make extremely realistic hair/fur and feathers with gradually blending the colors of very fine silk threads.  There are many true to life creatures in the exhibit using this technique including rabbits, leopards, chickens, badgers, yaks, flamingos, bats, owls and more!  Some might call this a photo- realistic style, but I think it's so much more than a simple 2D picture.  You can't get the range of texture in photography that you can in stitch.
The tour moved then to their workroom where RSN trained embroiderers are working on commission projects.  These include both conservation work (repairing historic embroidery to stop the ravages of time) and new bespoke pieces.
As a final treat, we got to the RSN giftshop, where I picked up a few goodies.  After flying 9 hours and staying awake through planes, trains and automobiles, we headed back to our hotel in London, to get a well-deserved rest before a late dinner.
If you're planning a trip to London, make sure to look up the RSN and see if you can take a class or tour.  You'll be glad you did!
https://fiberartistjourney.com/wp-content/uploads/2017/12/Christina-Fairley-Erickson-575x156-300x81.png
0
0
Christina Fairley Erickson
https://fiberartistjourney.com/wp-content/uploads/2017/12/Christina-Fairley-Erickson-575x156-300x81.png
Christina Fairley Erickson
2018-07-13 22:54:42
2018-07-14 04:43:43
RSN Animals in Embroidery