Last night I attended the preview party for the 2018 Quilt and Fiber Art Festival in Everett, WA.  With all the wonderful entries in this large International show, I'm awestruck and so humbly honored… I won 4 awards!
A Best of Show-Mixed Techniques Award Of Excellence for the show, "In Klimt's Corral"
3rd place for Fiber Art- Mixed Media, "In Klimt's Corral"
2nd place for Fiber Art- 3D/Sculptural, "Bullkelp Vessel"
2nd place for Fiber Art- Needlework, "Crested Serpent Eagle"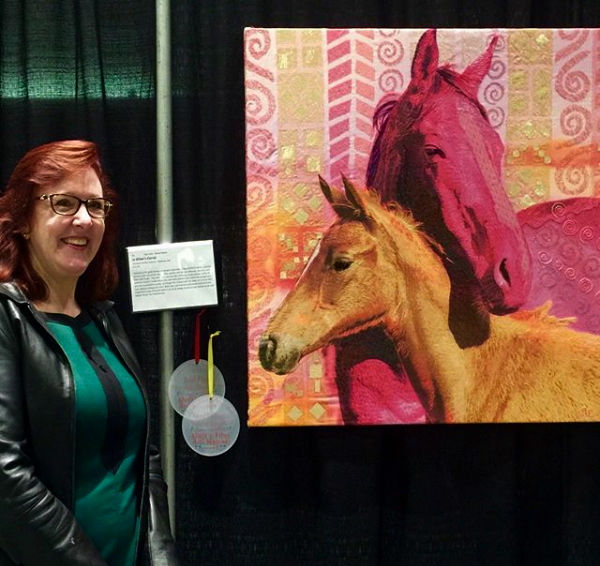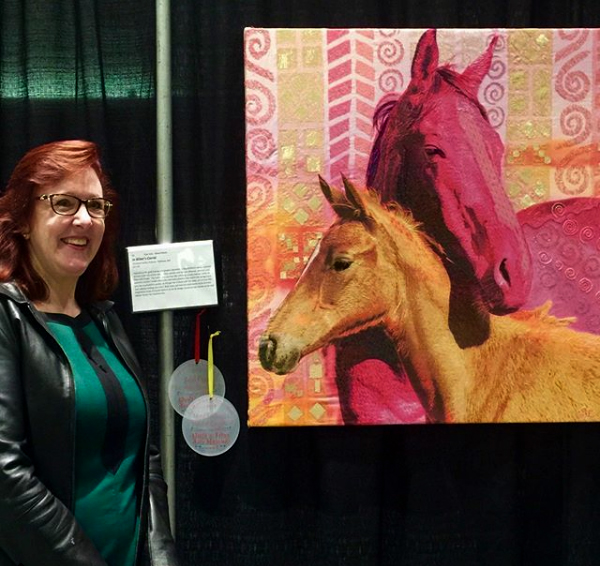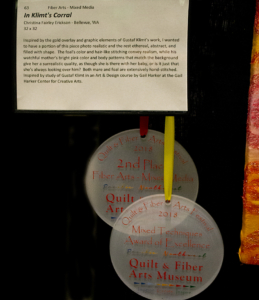 "In Klimt's Corral" will be included in the "Award Winners: Quilt and Fiber Arts Festival 2018" exhibit at the Pacific Northwest Quilt & Fiber Art Museum from October 17 – November 18, 2018.
Meanwhile, I'll be scooping up the Bullkelp Vessel and Crested Serpent Eagle pieces to include in my exhibition later this month at the La Conner Country Inn.  I'm still working feverishly to finish up all my pieces for that exhibit.  I haven't even taken time to count them all up, but I think I have about 30 pieces.  I've continued to work many of my pieces to my theme of "the Water's Edge", coinciding with all the work I did on seaweeds during my 2 year Level 3 Art & Design class.
I want to thank my family for all the support they've given me as I continue on my fiber artist journey.  I was so happy have my Mom, husband Randy, and daughter-in-law Zeyneb with me at the preview party last night, and I look forward to our other kids coming to my Advanced Stitch Exhibition.  I have to give extra acknowledgement to Randy for putting up with my constant stitching or other work while we spend time together as well as having my art supplies stretching into all corners of our house!  I appreciate all the support from both family and friends.
http://fiberartistjourney.com/wp-content/uploads/2017/12/Christina-Fairley-Erickson-575x156-300x81.png
0
0
Christina Fairley Erickson
http://fiberartistjourney.com/wp-content/uploads/2017/12/Christina-Fairley-Erickson-575x156-300x81.png
Christina Fairley Erickson
2018-10-12 20:33:56
2018-10-12 20:33:56
Preview Party Brings Surprises