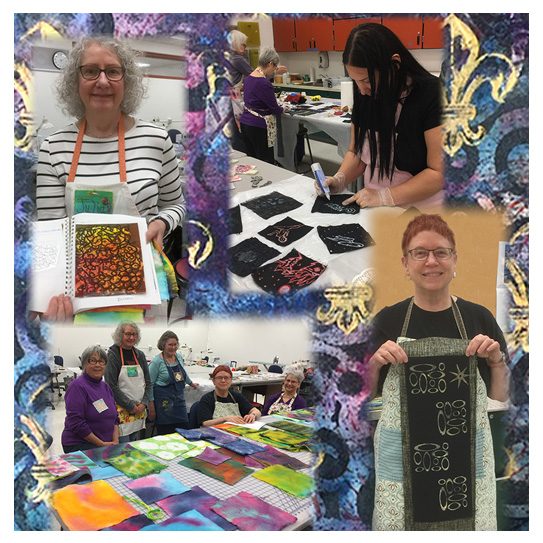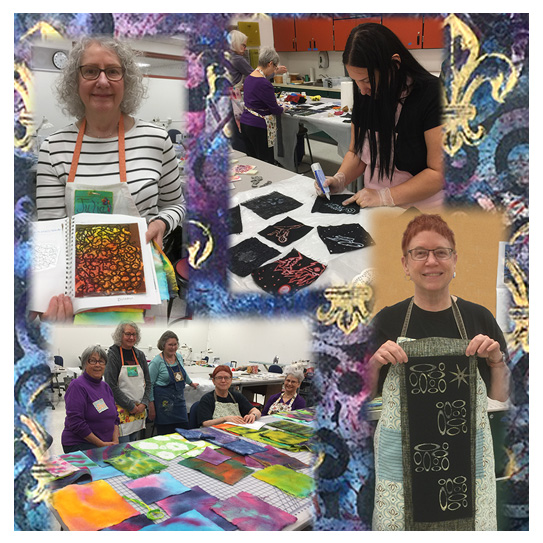 Enrollment for Fall 2021 opens May 13, 2021 !
October 4 – November 8, 2021– Five Mondays from 11 am – 3 pm (no class on Oct 18 due to college closure that date)
(Spring 2021 Course Dates: Oct 4; Oct 11; Oct 25; Nov 1 and Nov 8.)
Cost TBD (For 2020-2021 it was $135.04 for WA resident price including campus fees)
NOTE: Social Distancing and PPE requirements will be in place.
Embroider, Embellish & Enrich
Learn techniques to enhance any fabric project!
Try out various surface design methods, such as hand embroidery; machine embroidery; block printing on fabric; Tsukeneko inks; textile paints; oil paintsticks; resist painting, discharge dyeing; couching; collage; fusing; silk dyeing; block printing, bobbin work; fabric collage; color blending with sheer fabrics; metallic thread embroidery; and beading.
Fashion, Quilts, and Fiber Art
What you make is up to you! Instructor will give expert guidance.
A different surface design demonstration and opportunity to make a sample each session.
Open to all skill levels- beginning to advanced.
Relax and play with fabric and textiles while earning 1 credit!
Hand Embroidery
Machine Embroidery
Fabric Painting
Dyeing
Batik
Beading
Block Printing
Felting
Anything you can think of to make the surface of fabric unique!
Surface Design Lab: Course SEW116  Item # 8470 Fall 2021
Earns 1 college credit each quarter!
To Register for any of Christina's LW Tech Sewing Lab Course:
First – Enroll as a LWTech student at https://www.lwtech.edu/admissions/new-students/
Scroll down to click "Apply Today!" under "2 Apply".  (If you are only applying for Sewing classes, you do not need an admission coach.) Go through the process to "Set Up My Web Admissions Account" to get your Student ID number.
Once you have your Student ID (SID#) register at https://webapps.lwtech.edu/wts/webreg/waci221.html
Enter your SID and PIN and choose Fall 2021
Then follow the instructions, inputting the Course/ Item Number Below:
Surface Design Lab Course ID: SEW 116:  Item Number: 8470
Problems or Questions with Registration?  Contact the Admissions & Registration office at (425) 739-8104 
or Contact Christina for more info or assistance!