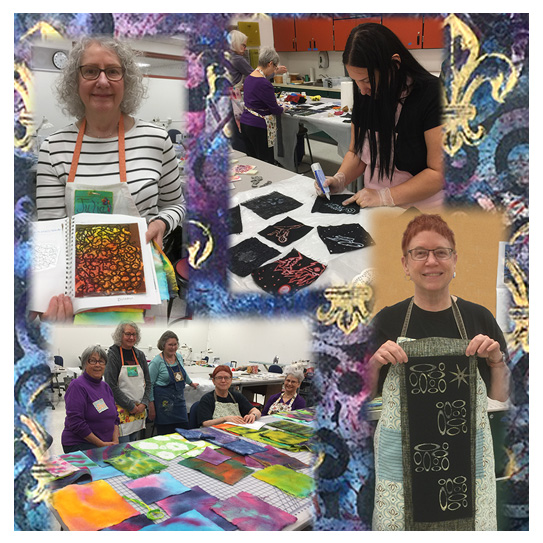 September- November  –  Seven Mondays from 12 noon – 3 pm
Fall 2019 Course Dates: Sept 23, Sept 30, Oct 7, Oct 28, Nov 4, Nov 18, Nov 25  
Only $132.66 (2019-2020 WA resident price includes campus fees + optional $20. supply fee payable in class to instructor)
Embroider, Embellish & Enrich
Learn techniques to enhance any fabric project!
Try out various surface design methods, such as hand embroidery; machine embroidery; block printing on fabric; Tsukeneko inks; textile paints; oil paintsticks; resist painting, discharge dyeing; couching; collage; fusing; silk dyeing; block printing, bobbin work; fabric collage; color blending with sheer fabrics; metallic thread embroidery; and beading.
Fashion, Quilts, and Fiber Art
What you make is up to you! Instructor will give expert guidance.
A different surface design demonstration and opportunity to make a sample each session.
Open to all skill levels- beginning to advanced.
Relax and play with fabric and textiles while earning 1 credit!
Hand Embroidery
Machine Embroidery
Fabric Painting
Dyeing
Batik
Beading
Block Printing
Felting
Anything you can think of to make the surface of fabric unique!
Surface Design Lab: Course SEW116  Item # 8470 Fall 2019
Earns 1 college credit each quarter!
Click here for information about Christina's Repair & Upcycle Lab Course!